For those looking for facial rejuvenation, dermal filler injections are increasingly becoming popular as a non-surgical option. The reason for their increasing popularity at our clinic in Edmonton is that they are useful for a variety of facial aesthetic improvements ranging from simply reducing the appearance of fine lines and wrinkles or replacing facial volume loss. Looking tired? They're even useful to treat dark under-eye circles with a treatment in the tear trough areas. Dr. Jarret Morrow, an expert cosmetic physician, aims for a soft natural look to provide you with a refreshed appearance. You'll look better, but the reason why will be our secret!
The results with dermal fillers are nearly instantaneous and long-lasting. We often use dermal fillers in combination with neuromodulators (Botox and Dysport) to achieve the best results since they augment each other. Dr. Jarret Morrow MD is an expert cosmetic physician in South Edmonton at Serene Radiance Rutherford. Continuing reading to learn more or book a free consultation with him today!
Contact US for a Free Dermal Filler Consult
Dr. Jarret Morrow MD
Serene Radiance Rutherford
Edmonton, AB
780-705-2285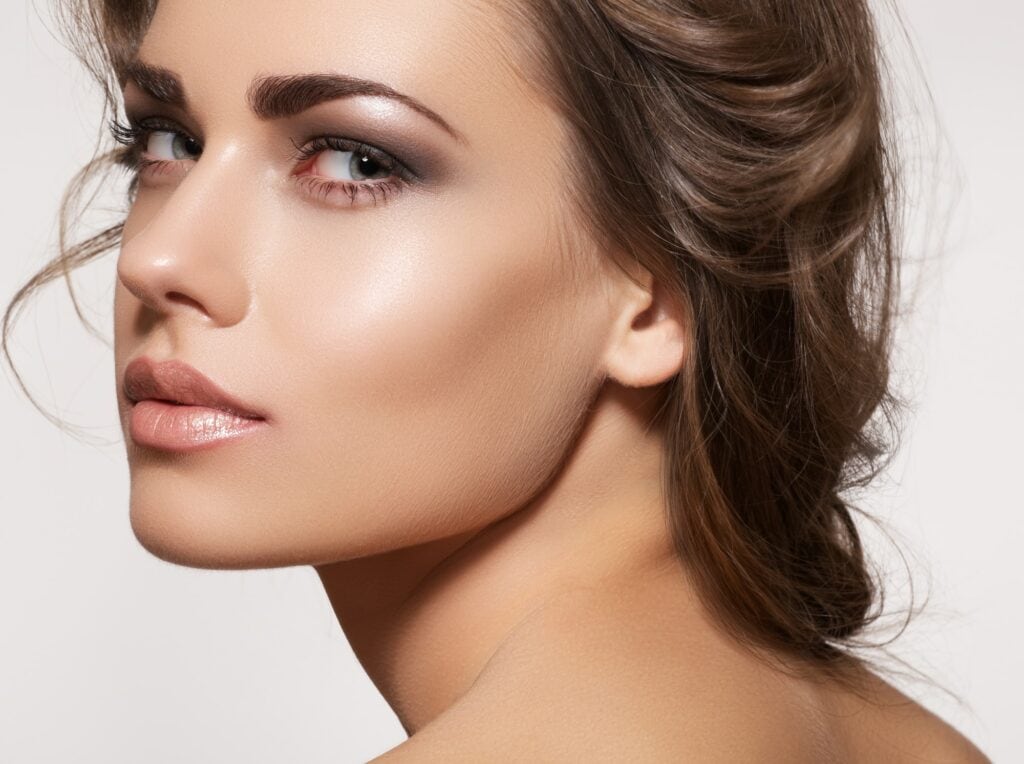 What exactly are Dermal Fillers?
What constitutes dermal filler products has changed over the years. Initial products such as collagen for fine lines and wrinkles have expanded to newer products such as hyaluronic acid (Juvederm, Restylane, Revanesse), calcium hydroxylapatite (Radiesse), and poly-l-lactic acid (Sculptra) which work in 3-dimensions instead of only two.
While neuromodulators such as botox work to smooth dynamic wrinkles primarily in the upper 1/3 of the face, their introduction made the necessity for volume correction in the lower 2/3 of the face even more important. Dermal fillers are injected (typically with a microcannula technique for increased safety) in different parts of the face: under the eye (tear trough), cheeks, temples, chin, around the mouth (nasolabial and marionette lines) and to accentuate the jawline, as well as lips.
What is Hyaluronic Acid and how it helps in facial rejuvenation?
Hyaluronic acid (HA) was discovered in the eyes of cows. True story. It is a polysaccharide which is a carbohydrate molecule (a bunch of sugar molecules stuck together). So yeah, it's a fancy type of sugar molecule that's found in your skin although HA levels decrease with age leading to a loss of skin's elasticity. How are HA products made? By bacteria, so they are not sourced from animals. Restylane was the first HA product approved for use in the United States in 2003. HA fillers are the most popular filler type available owing in large part to their reversibility with hyaluronidase.
How do Dermal Fillers work?
Hyaluronic acid fillers work both by restoring volume loss, smoothing fine lines and by attracting water molecules to improve hydration. Why is this needed? Well, as we get older our production collagen and elastin declines, both of which contribute to an aged appearance. While there is some discrepancy over which age we start to lose collagen, most experts agree that it's after age 25. Your collagen and elastin levels will then drop at a rate of about 2% per year. By your late 20's, production rates of both will be greatly diminished.
How long do Dermal Fillers last?
The duration that fillers last depends on the type of fillers utilized (hyaluronic acid vs poly-l-lactic acid) as well as the location treated. For example, areas treated with a higher degree of movement (such as the lips) are thought to last less than other areas of the face with less dynamic movement (temples, tear troughs). Fillers typically last from 6 months to over one year though due to individual metabolic factors, there are no guarantees for the duration.
Are there different types of Dermal Fillers?
As previously mentioned, the most common type of dermal filler is hyaluronic acid – a substance naturally found in parts of your body including the skin, joints, and even eyeballs, that can hold 1000x its own weight in water. Hyaluronic facial fillers help to contour cheeks and jawlines as well as smooth out imperfections in the skin and provide hydration.
Other types of semi-permanent dermal fillers include poly-l-lactic acid (Sculptra) which is a collagen stimulator as well as calcium hydroxyapatite (Radiesse). Fat is one of the oldest fillers and is still utilized by some plastic surgeons.
Hyaluronic Acid Fillers
Juvederm® Volbella, Volift, Voluma, Ultra Plus XC
Restylane® Refyne, Defyne, Lyft, Volyme, Skin Boosters, Fine lines
Revanesse® Kiss, Ultra, Contour, and Redexis
Potential adverse effects
Despite being a relatively safe non-surgical procedure there are risks and potential side effects associated with dermal fillers. They may include edema, bruising, pain, bruising discoloration (Tyndall effect), lumpiness, rashes, and itching. The dreaded potential side effect of dermal fillers is when the filler molecules are injected into an artery or cause arterial occlusion. These effects are rare. The risk of this can be reduced by choosing an experienced physician who uses microcannula injections instead of sharp needles and avoiding problem areas such as the glabella (between the eyebrows).
What issues do Dermal Fillers address?
Injectables dermal fillers help to address issues including volume loss from the mid-face and under eye area, contouring the jawline, and adding general lift to the face.
Augment botox to smooth forehead wrinkles
Soften nasolabial folds – lines from mouth to nose
Soften the transition from the lower eyelid to the cheeks. – Tear Troughs
Restore volume to sagging cheeks
Soften crow's feet
Soften signs of aging hands
Soften laugh lines
Restore volume loss to temples
While dermal fillers can address the undesirable effects of aging, they are also useful for non-age related complaints such as:
Augmenting lip volume and shape
Improving the projection of a weak chin
Enhancing cheekbones height and
Smoothing nasal bumps
Softening the look of dermal scars
Contouring a male or female jawline
How much do Dermal Fillers cost?
So how much do dermal fillers set you back? Well, that depends entirely on how much you're going to have done, which fillers you opt for and who you pay to administer them.
While prices vary by clinic, our price for facial fillers is from $650 per syringe.
Where should you go to get Dermal Fillers?
When choosing an injector for dermal fillers ensure that you are seeing an experienced, licensed, and qualified physician.
Book an appointment today with Dr. Jarret Morrow for a free dermal fillers consultation today!
Contact Us for a Free Dermal Filler Consult
Dr. Jarret Morrow MD
Serene Radiance Rutherford
Edmonton, AB
780-705-2285