What is Sclerotherapy?
For people who're suffering from cosmetic concerns or discomfort of varicose, reticular, or spider veins, Dr. Jarret Morrow MD CCFP offers comprehensive consultations and treatments in South Edmonton at the Serene Radiance Laser Centre in Rutherford.
Sclerotherapy is a medical procedure in which a medication is injected into diseased veins (spider and varicose veins) which essentially irritates the vein causing it to eventually collapse and disappear. Successful treatment may improve both the appearance of these disease veins and reduce the associated discomfort. (hint, it works better with the use of compression stockings, post-procedure). 
If you are choosing Dr. Morrow at Serene Radiance Rutherford to assess your venous concerns, we'd like to provide you with important information about the procedure and preparation before your procedure. Continue reading to find out more pertinent information about cosmetic varicose vein treatments in south Edmonton. Varicose veins can be unsightly and often cause discomfort.
Contact US for a Sclerotherapy Consult
Dr. Jarret Morrow MD
Serene Radiance Rutherford Vein Clinic
Edmonton, AB
780-705-2285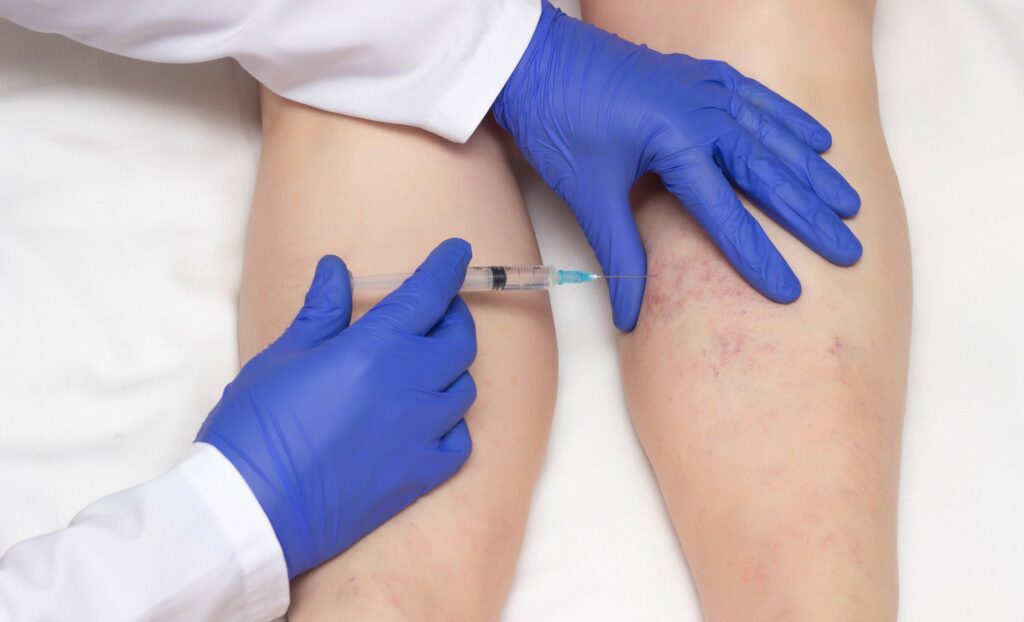 Your first appointment – Varicose Veins
Your first appointment will be for cosmetic vein treatment consultation purposes.
You will be examined by Dr. Morrow for signs and symptoms of venous disease. We do not often provide treatment at your first appointment. After that, there will be some paperwork to complete including a consent form and pertinent history. 
To improve treatment results, we advise that you purchased medical grade compression stockings. We can fit you for these stockings and you can either purchased them at our clinic or a place of your choosing.
We sell compression stockings from Sigvaris.
What to bring with you at your visits?
We are conveniently located in South Edmonton
Please bring a comfortable pair of shorts for the visit. You'll also want to have some loose fitting / comfortable pair of pants to wear home (after your treatment)
Your valid Alberta Health card
For your varicose vein treatment visit
Do not shave or apply lotion to your legs one day before your appointment
Please eat before your appointment, it's advisable to not arrive on an empty stomach
If possible, please avoid a week before your appointment:

Supplements: Ginseng, Vitamin E, Garlic, Omega-3, and St. John's Wort
Alcohol (48 hours)
NSAID's (such as Ibuprofen).
If you are taking blood thinners, prednisone, or 

You are not eligible for treatment if you're are pregnant or breastfeeding. 
Compression stockings. These are an important component of our therapy approach. You can get fitted for compression stockings at our clinic. Please bring them with you if you already own them. Prescriptions for compression stockings will be provided after you see Dr. Morrow. The cost of compression stockings is usually covered by health plans.
The Procedure
Sclerotherapy procedures typically take 20-45 minutes depending on patient factors. Patients will typically require 2-6 treatments. 
Ensure that you space your treatments out by at least a six week interval in between.
Cost
Book a consultation for more information about the pricing for sclerotherapy for varicose vein treatment in Edmonton.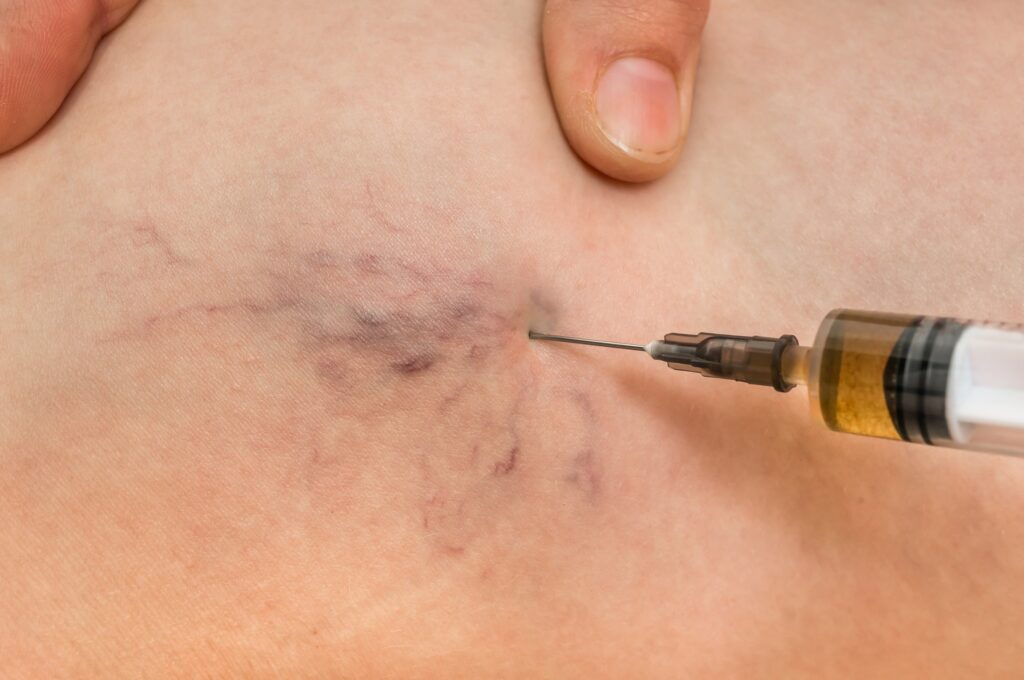 Results
While sclerotherapy doesn't always work, clients can see 80% resolution of spider and varicose veins. Results are seen in 3-6 weeks post-treatment. 
Aftercare
Avoid heavy exercise for two weeks
Wear stockings during the day for two weeks or longer
Avoid sun exposure while marks are visible
Avoid alcohol or aspirin for 24 hrs.
Downtime
For smaller spider veins, clients can typically resume normal activities right after treatment. For larger varicose veins, typically after 48 hrs.  
Frequently Asked Questions – Varicose Veins Edmonton
Who should not get sclerotherapy?
Those who are pregnant or breastfeeding
Allergy to product
Under 18 or over 65 years of age
Previous DVT (deep vein thrombosis)
Travel plans post-procedure in the next month
Other health conditions such as bleeding disorders, medications that increase bleeding, peripheral vascular disease, and others.
What are the potential complications of sclerotherapy?
It might not work!
Pain of injection
Bruising
Pigmentation changes
Phlebitis
Discoloration
DVT – deep vein thrombosis
Contact US for a Free Cosmetic Varicose Vein Consult
Dr. Jarret Morrow MD
Serene Radiance Rutherford
Edmonton, AB
780-705-2285