Natural Remedies for Arthritis Pain Relief?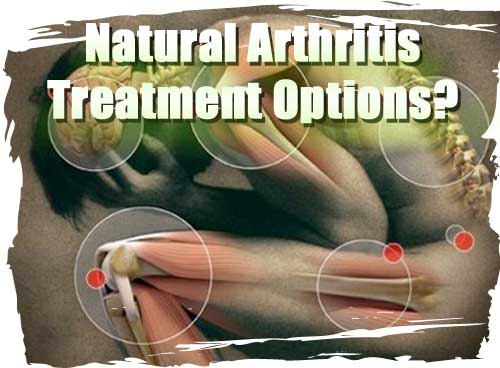 For those looking for natural arthritis treatments or joint pain remedies, the task can be daunting.  Chances are if you're searching Google for joint pain supplements, you're going to land on a page that's trying to sell you something…  This isn't one of those pages.
Osteoarthritis (not to be confused with rheumatoid arthritis, an autoimmune condition), the most common form of joint disease, affects roughly 20 million Americans.  Once thought to be a natural consequence of aging, it's now understood to result from a number of different factors.
Formerly referred to as degenerative joint disease, this type of arthritis occurs when the (hyaline) cartilage in your (articular) joints breaks down.   However, our current understanding of arthritis suggests that it's not limited to just the cartilage in your joints.  In fact, it also affects the entire joint organ including the tissue lining the joint (synovium) as well as the subchondral bone.
For those who suffer from arthritis, the pain can be debilitating and ultimately result in the need for joint replacement (total arthroplasty).
Given that joint pain is essentially a condition related to aging and elderly patients often have reasons to avoid using anti-inflammatory drugs such as NSAIDs (concern over gastric bleeding or increased risk of heart attacks and stroke), many choose to look toward natural remedies such as glucosamine.
For those looking to natural remedies, one key question is whether or not they actually work?  One unfortunate reality for those looking for products to promote joint health is the simple reality that with severe arthritis, anything outside of a joint replacement is unlikely to provide much pain relief.
One common theme I've noticed is that many doctors are reluctant to give corticosteroid injections to patients with moderate/severe arthritis out of the irrational fear that corticosteroids cause joint damage.  Even if that were the case, for those who're already at the point that they're suffering in daily pain from severe arthritis, it would still be worth considering if it worked.  Yet, there is no recent compelling evidence that they actually cause joint damage (excluding rare side effects such as avascular necrosis) when used appropriately (pubmed). For TMJ or temporomandibular joint pain, Botox is a newer treatment option to consider.
Osteoarthritis vs. Rheumatoid Arthritis
Natural Joint Pain Relief?
Grade:  A (Strong Scientific Evidence)
Exercise / Weight Loss



Exercise has been studied including both cardio and resistance training programs.  Typically, exercise is more effective for relieving pain and improving function in those with mild arthritis rather than moderate or severe forms. (Christensen et al 2005).   Specific recommendations made for those who are significantly overweight:
Reduce body weight by at least 5% over a 20 week period (combined with exercise).
Based on the currently available evidence, we're smack-dab in the middle of an obesity epidemic. Rates of obesity are skyrocketing in the United States, in particular. Canada isn't too far behind.  Researchers currently believe that obesity itself is probably the single most important risk factor for developing osteoarthritis of the knee.
As to why obesity increases your risk of arthritis of the knee, it's not particularly hard to image. To start with, obesity will increase the load on your knee joints. For those who have any type of anatomical abnormalities of their legs, this loading effect will have an even greater impact.
Decreasing the mechanical load on your knee joints can be achieved by simply losing weight. Some research also suggests that lateral wedge insoles can also help to decrease load on the medial (inner aspect) of your knee joint to potentially slow progression of joint damage (Bennell et al, 2011)
Other reasons to account for the increased risk obesity places on knee arthritis may include the pro-inflammatory effects of obesity, among others.
Consequently, for those who suffer from knee arthritis, weight loss is generally recommended as part of the treatment. However, on a practical level, patients who have obesity and knee arthritis are often limited in their mobility which generally makes it more difficult to lose weight.
A previous randomized trial concluded that an intensive weight loss intervention program of diet (calorie deficit) and exercise improved physical function in older obese adults with knee osteoarthritis (Miller et al, 2006). In this particular study, those who lost more weight also experienced greater improvements in functional abilities.
As mentioned, obesity is considered a risk factor for osteoarthritis, particularly osteoarthritis of the knee, but also osteoarthritis of the hip. Patients who suffer from both obesity and osteoarthritis of the hip or knee should talk to their health care provider about diet and exercise options as these types of interventions may improve their osteoarthritis symptoms.
In the recent study by Bliddal et al (2011), the researchers showed that 30% of obese subjects were able to achieve clinically significant weight loss using a rigorous low-energy diet. On average, the participants in those group lost roughly 11 kg over the course of a year. The control group lost just 3.6 kg in comparison.
For this study, the low-energy diet group had a 50% reduction in pain compared to the control group.
Important! Always talk to your physician before starting an exercise program or making any dietary modifications. As always, the information on this site is for general information only and should not be considered a substitute for medical advice.
References:
Miller GD, Niclas BJ, Davis C, Loeser RF, Lenchik L, Messier SP. Intensive weight loss program improves physical function in older obese adults with knee osteoarthritis. Obesity (Silver Spring). 2006 July;14(7):1219-30.

Bliddal H, Leeds AR, Stigsgaard L, Astrup A, Christensen R. Weight loss as treatment for knee osteoarthritis symptoms in obese patients: 1-year results from a randomized controlled trial. Ann Rheum Dis. 2011 Oct;70(10):1798-803. Epub 2011 Aug 5.

Bennell KL, Bowles KA, Wang Y, Cicuttini F, Davies-Tuck M, Hinman RS. Higher dynamic medial knee load predicts greater cartilage loss over 12 months in medial knee osteoarthritis. Ann Rheum Dis. 2011 Oct;70(10):1770-4. Epub 2011 Jul 7.
Glucosamine Sulfate
Glucosamine sulfate, a naturally occurring chemical (amino sugar), is found in the fluid surrounding joints.  Dietary supplements containing glucosamine can either be from shellfish sources or derived synthetically.
Despite the recent controversy (Wandel et al, 2010), there's reasonable scientific evidence to support the use of glucosamine sulfate.  Part of the reason for the mixed results in clinical trials is that the data mixes studies on glucosamine sulfate with other types of glucosamine such as glucosamine hydrochloride or n-acetyl glucosamine.
Dose:  1500 mg/day total taken in three divided doses of 500 mg
Cautions:  glucosamine can theoretically elevate blood sugar levels and depending on the manufacturer may contain allergens that affect those with shellfish allergies.  In theory, it may also increase your risk of bleeding particularly when taken with blood thinners.
Important:  Only buy products containing glucosamine sulfate NOT glucosamine hydrochloride or n-acetyl glucosamine.
Glucosamine Sulfate vs. Hydrochloride?
Glucosamine is a ubiquitous and widely studied ingredient in many joint health products. I've written previous articles on the different types of glucosamine used in joint health products (sulfate, hydrochloride, and n-acetyl glucosamine).
A previous article (Vlad et al, 2007) supports my previous conclusions on the ingredient glucosamine hydrochloride. In this recent article, published in the medical journal, Arthritis, and Rheumatism, the study others sought to explain the heterogeneity of clinical trial results on glucosamine.
Essentially, they endeavored to explain why many randomized clinical trials on glucosamine have found that it works, yet some clinical trials have conflicting results. Essentially, part of the reason for this discrepancy is that the clinical trials on glucosamine products include trials on glucosamine sulfate and glucosamine hydrochloride. Among their explanations was the simple conclusions that "glucosamine hydrochloride is not effective."
]If you're going to take a glucosamine supplement to promote your joint health, ensure that the product contains glucosamine sulfate, not glucosamine hydrochloride or n-acetyl glucosamine.
References:
Vlad SC, LaValley MP, McAlindon TE, Felson DT. Glucosamine for pain in osteoarthritis: why do trial results differ? Arthritis Rheum. 2007 Jul;56(7):2267-77.
Is Glucosamine Safe to Use During Pregnancy?
A study published in the Journal of Women's Health concluded that there is little currently available data to suggest that glucosamine causes risks for adverse fetal effects during pregnancy.  However, the currently available data is very limited.  It would be advisable to avoid the use of glucosamine during pregnancy regardless.
"CONCLUSIONS: These limited data suggest no increased risk for major malformations or other adverse fetal effects following the use of GLS during pregnancy. "
Reference:
Sivojelezova A, Koren G, Einarson A. Glucosamine use in pregnancy: an evaluation of pregnancy outcome. J Womens Health (Larchmt). 2007 Apr;16(3):345-8.
Motherisk:  Check for updates at their website.
Willow Bark
While there's reasonably good evidence that willow bark is effective for treating arthritis pain (Vlachojannis JE et al, 2009), this is one supplement that I wouldn't personally recommend.  It's basically a natural version of aspirin which means that it carries all of the risks of NSAIDs while probably being not as effective.
Containing salicylates, this means that you should NOT take willow bark if you have an allergy or sensitivity to Aspirin, are currently taking blood thinners, or are under the age of 18.   It also means that you should take this supplement if you're already using an over-the-counter anti-inflammatory (such as Ibuprofen®) or a prescription NSAID (such as Arthrotec®) etc.
Typical doses in studies are 240 mg of salicin per day
Grade:  B (Good Scientific Evidence)
Avocado and Soybean Usaponifiables – ASU
Avocado and soybean unsaponifiables are derived from certain oils found in avocados and soybeans.
A fairly recent meta-analysis concluded that a three-month trial of avocado and soybean usaponifiables is recommended for patients with osteoarthritis (Christensen R et al, 2008).
Dose:  typical studies include 300-600 mg/d of ASU
Devil's Claw Extract (harpagophytum procumbens)
Devil's claw is a herb which is sold in dietary supplements in the form of devil's claw extract.  The plant itself is native to Africa.  The extract has been studied primarily for decreasing osteoarthritis and lower back pain (Vlachojannis J et al, 2008).
Possibly safe rating for taken up to 1 year.  The most common side effect is diarrhea.
Dose:  2600 mg/d total taken in 3 divided doses.  Total of 50-100mg of harpagoside (active ingredient) daily
Physical Therapy
Neither ultrasound therapy or TENS (transcutaneous electrical nerve stimulation) have been shown to offer many benefits.  However, physical therapy combined with exercise can improving flexibility and strengthening the muscles surrounding joints.
S-adenosyl Methionine or SAMe
SAMe is a natural chemical found throughout the human body.  It's also made synthetically and sold as dietary supplements marketed towards those with depressive disorders and osteoarthritis.  It has a long history of use in Italy dating back to 1979. (Najm WI et al 2004).
Cautions:  avoid use by those with diagnosed bipolar disorder as it can possibly convert depression to mania (in those with bipolar disorder).
Dose:  200 mg taken three times daily for a total daily dose of 600 mg/d
Green-lipped mussel (Perna canaliculus)
Green-lipped muscle or Perna Canaliculus is a shellfish of economic importance to New Zealand.  As some point, it was discovered that people who consumed GLM suffered less arthritis than their inland relatives.  However, as exciting as the research is on GLM, I'm not certain that these supplements contain anything of benefit outside of their high quantities of omega-3 fatty acids.  Recently, researchers have speculated that furan fatty acids found in GLM may confer an anti-inflammatory effect (Wakimoto T et al 2011).
From Brien et al 2008 (pubmed):
"The data from the two more rigorous trials, in conjunction with our re-analysis of original data suggests that GLM may be superior to placebo for the treatment of mild to moderate OA. As a credible biological mechanism exists for this treatment, further rigorous investigations are required to assess efficacy and optimal dosage."
No established standardized doses exist for GLM.  
Tai Chi
Outside of common dietary supplements, there is a range of other natural or nonmedicinal alternatives including physiotherapy, weight reduction, exercise, and also tai chi.  At least some evidence suggests that Tai Chi may be beneficial for providing some element of pain control for those who suffer from arthritis pain. Tai Chi is an ancient Chinese martial arts form of meditation with a constant flow of energy and movement.
A recent meta-analysis compared the results of various randomized controlled trials on Tai Chi for osteoarthritis. Overall, some of the studies have found positive results on pain reduction and physical function. There also have been some conflicting results on its efficacy for OA.
However, since Tai Chi may have many other potential benefits and poses no serious risk, it may be an option for people with OA to consider. It's estimated that over 200 million people practice Tai Chi every day.
"Two RCTs suggested significant pain reduction on visual analog scale or Western Ontario and McMaster Universities Osteoarthritis Index (WOMAC) compared to routine treatment and an attention control program in knee OA." (Lee et al, 2007)

"…  there is some encouraging evidence suggesting that tai chi may be effective for pain control in patients with knee arthritis (OA). However, the evidence is not convincing for pain reduction or improvement of physical function. Future RCTs should assess larger patient samples for longer treatment periods and use appropriate controls" (Lee et al, 2007).
Bottom line:  At this point in time, there's at least some evidence that Tai Chi is effective for treating osteoarthritis of the knee. Specifically, it may be effective at helping with pain control. Evaluating alternative treatments with conventional scientific studies is often like trying to put a square peg in a round hole.
Reference:
Lee MS, Pittler MH, Ernst E. Tai chi for osteoarthritis: a systematic review.Clin Rheumatol. 2007 Sep 14;
Pycnogenol®
Also known as Marine Pine Bark extract, Pycnogenol® has been studied for its effectiveness in treating conditions including not only arthritis but also ADHD, Cancer, Glaucoma and others.  The extracts of pinus pinaster have a long history of use dating back to Hippocrates.  Part of their benefits is thought to be related to antioxidant activity.
Typical doses of 150 mg/day have been shown to be effective at reducing pain and improving function in patients with arthritis.
Grade C (Unclear or Conflicting Scientific Evidence)
Boswellia Serrata
While boswellia serrata, also known as Indian Frankincense, has a long tradition in Ayurvedic medicine for treating arthritis, the current research supporting its use is not compelling.  While there is a growing body of research published on boswellia serrata for the treatment of conditions including arthritis, this recent review (Christmas 2008 et al) notes the following shortcomings:
"The evidence evaluated here may be encouraging, but it is not convincing. Not enough large randomised clinical trials have been published for any condition. The medications used in these trials cannot be directly compared in terms of contents and strength. The pharmacokinetics and optimal dose of B serrata extracts are largely unknown; usually 600-3000 mg gum resin per day or equivalents are recommended for oral intake.Source of funding or sponsorship was undisclosed in all but one trial."
They continue…
"Many of the medical, quasimedical, or cosmetic claims made implicitly or explicitly for B serrata products are not supported by the available evidence. Their trade names speak for themselves: regeneration body balm, intensive eye serum, supernatural instant youth serum, lifting and firming body lotion, joie de vivre face lotion, radiance anti-ageing, joint and muscle balm, ultra inflammactin, to name a few."
On a positive note, the authors did mention that the safety profile of boswellia serrata appears to be quite good with no known serious drug interactions or irreversible adverse effects.
Dosing is not well-established.  Currently, most preparations are standardized to boswellic acid.  Typical doses of 330 mg of boswellia serrata extract (standardized to 40% boswellic acid) taken 3 times per day.
Bromelain
Researchers from the United Kingdom (Brien et al, 2006) concluded that Bromelain is not effective as an adjuvant treatment for arthritis:
"This study suggests that bromelain is not efficacious as an adjunctive treatment of moderate to severe OA, but its limitations support the need for a follow-up study."
Typical doses are 800 mg of Bromelain taken daily.  
Chondroitin Sulfate
This is one supplement, in particular, where my personal opinion of the evidence differs from published recommendations from Natural Standard.  They recently concluded:
"Multiple clinical trials have examined the use of oral chondroitin in patients with osteoarthritis of the knee and other joints (spine, hips, and finger joints). Most of these studies have reported significant benefits in terms of symptoms (such as pain), function (such as mobility), and reduced medication requirements (such as anti-inflammatory). The weight of scientific evidence points to a beneficial effect when chondroitin is used for six to 24 months. Longer-term effects are not clear. Preliminary studies of topical chondroitin have also been conducted."
In contrast, a meta-analysis published in the Archives of Internal Medicine offered this opinion (Reichenbach S et al, 2007):
"Large-scale, methodologically sound trials indicate that the symptomatic benefit of chondroitin is minimal or nonexistent. Use ofchondroitin in routine clinical practice should therefore be discouraged."
A more recent meta-analysis offered this viewpoint:
"Overall, chondroitin sulfate at a dose of 800 mg orally once daily appears to have a significant but small effect of slowing the rate of joint space narrowing over a period of 2 years in patients with symptomatic radiographic knee OA. Hence, given the safety of chondroitin sulfate, it appears reasonable to administer chondroitin sulfate to patients with symptomatic radiographic knee OA for its possible structural benefit."
Of note, the above meta-analysis relied on three studies–two of which were funded by the manufacturer of the chondroitin sulfate (CS) studied.  Joint space narrowing is a feature of osteoarthritis which is seen on x-rays.  While the meta-analysis of the above three studies found that taking CS for two years resulted in roughly a tenth of a millimeter less joint space narrowing, it did not show any benefit on pain or function.
According to the results of this recent publication in the medical journal, Annals of Internal Medicine, people who take dietary supplements which include chondroitin sulfate may be wasting their time and their money on these products. Chondroitin Sulfate is found in many of the blank Glucosamine/MSM/Chondroitin Sulfate product formulations which are often found in both drug and grocery stores.
Acupuncture
Despite the problem with the lack of any of the concepts of traditional Chinese medicine being validated themselves by scientific inquiry, acupuncture has been shown in clinical trials to be effective at reducing arthritic pain and improving the level of function.  Though these benefits may largely be related to placebo effects, patients who used acupuncture founding meaningful benefits (Manheimer E et al 2010).  As a side note, while I personally don't buy into the concept of "chi" espoused by traditional Chinese medicine, acupuncture's safe and worth considering.
Many patients who suffer from the debilitating pain of arthritis seek alternative treatment options to medication. Acupuncture is among the common alternative treatment options for patients with arthritis. However, does acupuncture really work to relieve the symptoms associated with arthritis?
Well, a recent meta-analysis (Manheimer et al, 2007) concluded the following:
"Sham-controlled trials show clinically irrelevant short-term benefits of acupuncture for treating knee osteoarthritis. Waiting list-controlled trials suggest clinically relevant benefits, some of which may be due to placebo or expectation effects."
No serious adverse events were reported from acupuncture in this meta-analysis which involved more than 9 individual Randomized Controlled Trials.  The Study concluded that"current evidence from several large-scale, high-quality RCTs suggests that acupuncture may be an effective treatment for older patients with osteoarthritis of the knee."
However, they also noted that it was difficult to tell how much of the benefits patients received from acupuncture could be attributed to the placebo effect.  In evaluating the randomized controlled trials which they pooled in this meta-analysis, they found that one study problem was that many patients who were not randomized to receive acupuncture, actually dropped out of the studies.
This suggests that patients who enrolled in these studies had a likely preference for receiving acupuncture treatment and would simply drop out if they were randomized to a control group.
Either way, given the favorable safety profile of acupuncture, it may be worth considering for patients who suffer from osteoarthritis of the knee.
Reference:
Manheimer E, Linde K, Lao L, Bouter LM, Berman BM. Meta-analysis: acupuncture for osteoarthritis of the knee. Ann Intern Med. 2007 Jun 19;146(12):868-77
Other Ineffective Treatments:
Boron:   (link)
Hyaluronic acid (oral)
Magnet therapy
MSM (methylsulfonylmethane): Debbi EM et al 2011
Niacin (vitamin B3)