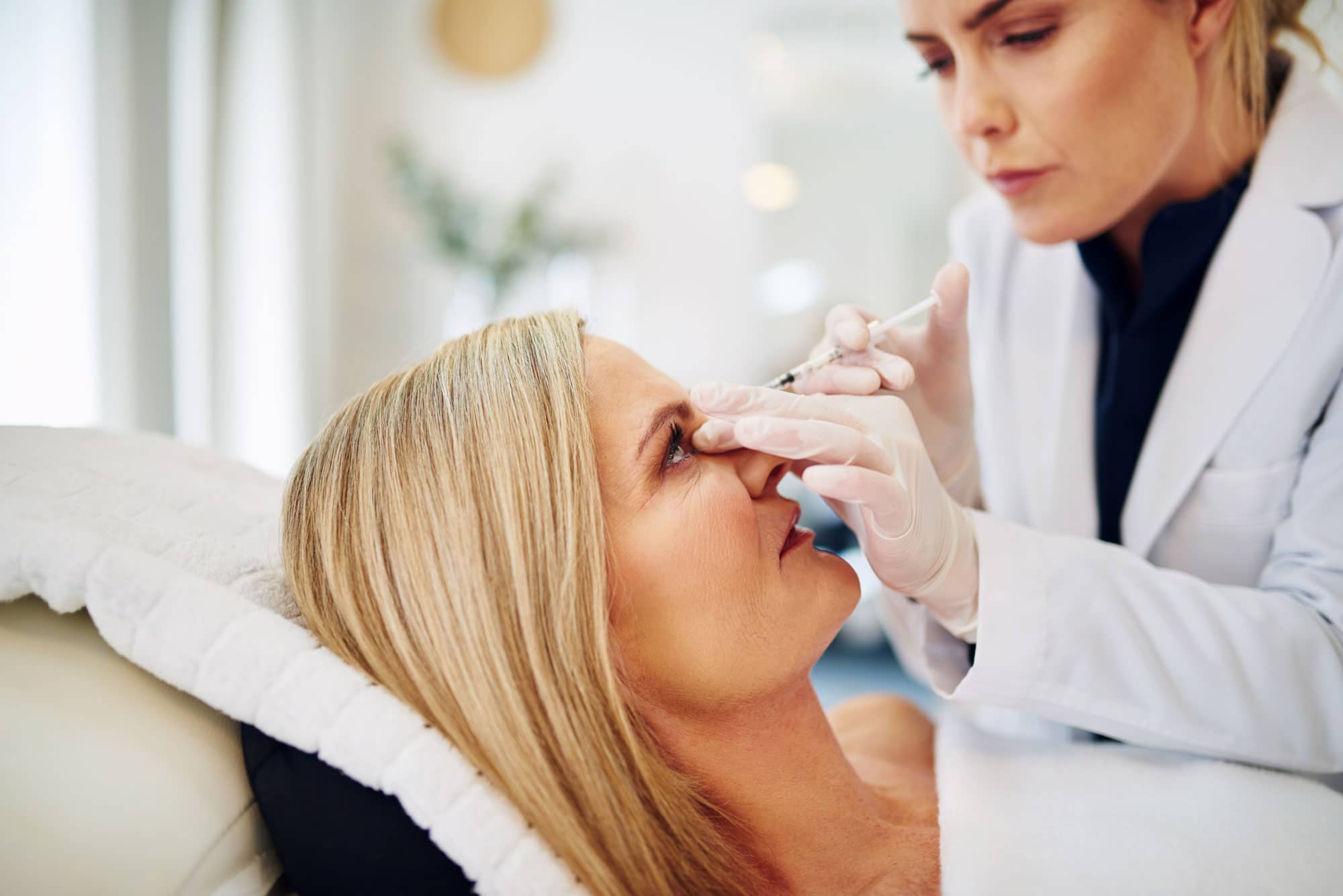 How to Prepare for a Botox / Filler Appointment
Dr. Jarret Morrow is a licensed physician in Edmonton, Alberta practicing cosmetic medicine at Serene Radiance Rutherford Laser Centre located in South Edmonton.
If you are considering Botox or dermal fillers (i.e. Restylane or Juvederm), then naturally if it is your first time you might be feeling a little bit nervous. This article covers the basics about what you can expect both before and after your treatment along with tips to avoid bruising. Clients can play an important role in limiting their risk of bruising and improving outcomes by making some small adjustments before and after their cosmetic treatments.
At your initial consultation visit, make sure to ask your doctor any questions that you may have. Also, it is important to bring a list of medications, including over-the-counter medications, and herbal supplements that you are taking. If you have any medical conditions or are taking any medications that increase your risk of bruising, let your doctor know.
If you are pregnant or breastfeeding, then these procedures are not recommended. Wait until after you are done with breastfeeding to seek treatment
Prepping Prior to Your Treatment
(Step 1: Choose Your Botox Injector Carefully)
One of the most common questions that I get asked is whether or not you can have makeup on during a cosmetic treatment? The simple answer is that it would be best to avoid wearing foundation, concealer, lipstick, or any other type of cover-up. The more nuanced answer is that it also depends on what type of treatment you are getting. For a basic visit for Botox or Dysport, wearing makeup is not too big of an issue, but it would be better to wear a light amount in the planned treatment areas. However, if you're planning on getting dermal filler injections in areas such as your cheeks, under eyes, or lips (lip fillers), or other areas then it would be best to avoid wearing makeup on the day of your treatment.
The following are some recommendations of how to prepare for a cosmetic treatment:
Avoid consuming alcohol 2 days before your treatment. Alcohol has negative effects on platelets and the blood clotting system meaning that it will increase your risk of bruising.
If you have ever had a cold sore in the treatment area in the past (most commonly around the mouth), notify your physician and they will likely prescribe you an antiviral medication to take.
Avoid taking supplements such as ginseng, Ginko Biloba, Omega-3 fatty acids / Fish Oil, Vitamin E, Garlic, and Ginger for about a week prior to your treatment. Use of these can also increase your risk of bruising.
If you are taking any prescription or over-the-counter "blood thinners," talk to your doctor about these medications before your treatment.
If you are generally healthy, avoid taking non-steroidal medication such as Advil (Ibuprofen), Aleve (Naproxen), for 2 days before your treatment. Instead, consider Tylenol (acetaminophen) for general aches and pains if you are not allergic.
What to wear to your treatment
For most appointments, casual clothing works best. Wear something that you feel comfortable in. Ideally, you don't want to wear an expensive top that you're worried about staining particularly if the procedure involves dermal fillers.
For hyperhidrosis appointments, it's usually best to wear a tank top, even if under another shirt.
For migraine botox treatments, I would recommend either a v-neck type t-shirt, something with a wide neck, or tank top under your regular attire.
Don't show up for your appointment dehydrated and hungry… This will substantially increase your risk of fainting. Make sure you're well-hydrated and eat prior to your treatment.
At Your Treatment
For Botox and Dysport treatments, applying an ice pack prior to injections can help constrict blood vessels while also reducing the discomfort of the injections.
With dermal fillers, your doctor may apply a numbing cream prior to injection.
For dermal fillers, talk to your doctor about the use of sharp needles vs cannulas for the treatment area. There are fewer needle pokes with the cannula technique and consequently less risk of bruising.
After Your Treatment, Botox or Dysport
Do not rub towards your eyes for 24 hours after your treatment. People tend to rub towards their eyes either when they grab a towel to wipe off sweat or when washing your face. Ideally, I advise my clients not to work out on the same day after these treatments.
Botox and Dysport can start to work in 3-5 days but be patient as it can take up to 2 weeks to see maximum results. If you require a touch-up, that's the perfect interval to book your follow-up.
Do you need to make funny faces such as raising your eyebrows when frowning to work the Botox into your muscles? No.
Facial massages are a big no-no for 24 hours. You must abide by this time period to ensure that you don't alter the effects of the treatment. Also, steer clear of electronic facial laser treatments for at least a few weeks.
You also should not go for Microblading of your eyebrows on the same day. I would advise waiting at least a few weeks for this type of procedure as Botox can alter the shape of your eyebrows (if you are getting treatment in your forehead area).
If you are a Rentin-A user, then please make sure that you don't use the cream the night before after the procedure. You can then go straight back to using it the day after.
After Your Treatment, Dermal fillers (Restylane, Juvederm)
Follow the instructions provided to you at your injection visit.
For dermal fillers, ask for an ice pack after your treatment. You can apply ice for 10 minutes every hour as needed after your treatment.
Continue to avoid alcohol for 24 hours after your treatment.
Avoid saunas, sunbathing, hot yoga, or other sources of heat until all of the swelling and redness has gone away.
No exercise for 48 hours after your treatment.
Consider purchasing some Arnica gel from your local drug store. It can be used post-procedure to potentially reduce swelling and bruising.
Avoid massaging or rubbing any of the treatment areas (unless you were specifically told to do so by your injector).
For hyaluronic acid fillers, it can take a week for products to settle and swelling to resolve.
For minor discomfort, use Tylenol instead of Advil, Aspirin, or Motrin.
Book a follow-up two weeks after your treatment.
Don't forget to follow up!
Make sure you follow up with your injector, typically after 10 days for Botox and a few weeks after your filler appointment if you have any non-urgent concerns.
Should Dermal Fillers Put Your Social Plans on Hold?
If you are the life of the party and are having fillers and Botox to help boost your confidence, then be prepared not to make your big debut immediately after having the procedure performed as possible bruising caused by Botox and dermal fillers can take between seven to ten days to heal. If you bruise easily, you might want to give yourself two weeks. For those with upcoming Weddings, ideally, you would like to have your work done a month ahead of time.
This article outlines very important tips that will help maximize the outcomes of your cosmetic procedures. Being nervous about your first visit is completely normal. After the initial treatment, many patients become very comfortable with the process and look forward to future treatments.
If you're in the Edmonton area, book a free consultation with Dr. Jarret Morrow (780-705-2285)
More Information about Botox, Dysport, and dermal fillers in Edmonton